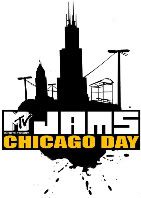 MTV JAMS HOSTS "CHICAGO DAY" ON FRIDAY, NOVEMBER 27 FEATURING VIDEOS FROM SOME OF CHICAGO'S GREATEST INCLUDING KANYE WEST, COMMON AND JENNIFER HUDSON
Special Segments Hosted By MTV News VJ Sway
New York, NY – November 24, 2009 – Chi-Town takes over MTV Jams on Friday, November 27 with "Chicago Day" featuring videos from the hottest artists including Kanye West, Common, Jennifer Hudson, Lupe Fiasco, and many more. "Chicago Day" will also focus on showcasing talent from the underground music scene. MTV Jams partnered with Fake Shore Drive, Chicago's #1 hip hop blog, to find some of the city's up and coming new artists including Rhymefest, GLC, Ben One, Skooda Chose, and Scheme .
"Chicago Day" on MTV Jams marks a pivotal point in Chicago hip hop history, by not only showcasing national talent, but also by giving up and coming and independent artists the chance to shine alongside of them," says Andrew Barber, founder of Fake Shore Drive.com.
"Chicago Day" will also look inside the music of the city and focus on the philanthropic efforts of those dedicated to making the city a safer place for inner city youth. MTV News VJ, Sway and one of hip hops finest; David Banner hit the streets to talk to the people of Chicago. David Banner also talks with Sway about his "Heal the Hood" Organization, which is dedicated to stopping the violence that is plaguing the city. Sway also sits down with George Daniels, Godfather of Chicago music to talk about how the music in the city has evolved.
MTV Jams partnered with Chicago-based Mid-C Media to shoot all of the interview footage.
Tune into MTV Jams on Friday, November 27 as "Chicago Day" gives viewers access to new as well as classic videos from some of the hottest artists from Chi-Town.